Stop waking up feeling behind and constantly frustrated. Learn how 15 minutes a day can transform and make over your mornings. As a busy working mom of two, I have found an effective and efficient morning routine sets the tone for my day. I love controlling how I start my day. It sets me up for success. Do you often wake up feeling behind—before you even get out of bed?
Are you constantly frustrated that it seems like you are so busy, but you have very little to show for all your effort?
Are you worn down and worn out by all the hats you are wearing and balls you are juggling?
Do you wish you could find time to refuel your tank, improve your health, invest more into your family, or even just to slow down and breathe?
You don't have to keep living life feeling constantly behind, overworked, and overwhelmed!
I received an advance copy of this course and loved it so much, I became an affiliate.
Why Crystal Wrote Make Over Your Mornings
People have asked how she is able to do everything.
She has committed to get up and be intentional about how she spends the first two hours of her day.
It's a simple thing, but using morning hours well, sets up the whole day for success. You get more done. You have more energy. And you have more breathing room in your life.
Why You Need the Make Over Your Mornings Course
You will start the day successfully.
You will have progress to show for your efforts.
You will be energized despite wearing many hats and juggling many priorities.
You will have time for yourself, your health, and your family.
This 14-day course is designed to help you revolutionize your productivity, streamline your routines, invest your time in things that truly matter, and find more joy and peace in the process.
This is NOT a one-size-fits-all system. It's about creating a morning that is in line with your life, your strengths, your family's needs, and your unique situation.
What You'll Learn In This Course
In this 14-day course, you'll:
Develop a morning routine and before bed routine that actually works—and that sets you up for amazing success!
Streamline your morning tasks so that the biggest priorities are accomplished first.
Learn how to make to-do lists that support your day, instead of strangle your life.
Create realistic, but stretching goals and then follow through with them.
Discover the power of accountability and how to implement it into your life.
Establish internal and external motivations to create perseverance in your new routines.
Find time to refuel your tank and make space in your day for things you love.
Experience much more focus, organization, and clarity in your daily life.
What You Get When You Purchase This Course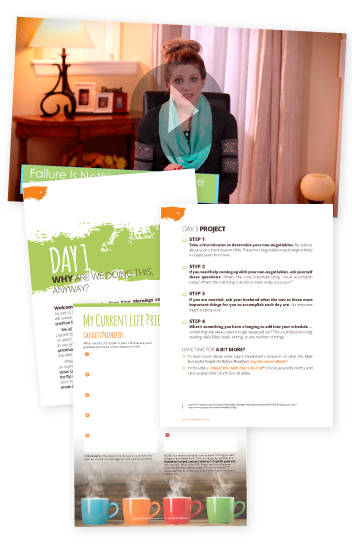 When you purchase this course, you'll get immediate access to all of the following:
14 high-quality videos with motivational encouragement from me — one for each day of the course.
A behind-the-scenes peek into our everyday home and lives via short video clips throughout the course.
A comprehensive workbook with 14 chapters filled with practical ideas and inspirational encouragement.
Daily projects to guide you on your 14-day journey and help you implement and apply what you learned from the daily video and chapter.
Printable worksheets to walk you step-by-step through some of the projects and motivate you to follow through.
Additional links and resources for each day, if you'd like to dig deeper on a subject.
How to access the course:
The course videos and materials can be accessed via any desktop computer, laptop computer, smartphone, or mobile device. You can choose to print the workbook or download it to your computer or phone.  And, it is all self-paced!  Begin and end as it works for you as there are no deadlines.  Plus, you'll have lifetime access to all course downloads upon purchase.
Cost of the course:
The 14 day course is just $17.$7.

Click here to purchase the Make Over Your Mornings Course now.
Latest posts by RAKI WRIGHT
(see all)