Do you wish your kids could learn how to cook?  Well, here are five books you will definitely want to read!

Get your kids in the kitchen with this great collection of cookbooks for kids. With easy-to-follow recipes, guidelines and schedules for teaching kitchen skills, and encouragement that your investment will pay off, this bundle will help you discover the fun of cooking with kids while teaching them important skills that will serve them for a lifetime.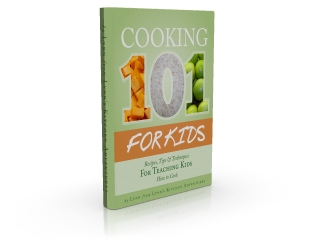 Cooking 101 for Kids
by Lynn at Lynn's Kitchen Adventures
Teaching your kids to cook will help them save money as adults and provide a foundation of healthy eating habits. In Cooking 101 for Kids, Lynn covers the basics of measurements, tools, common ingredients, and how to follow a recipe before delving into recipes for breakfast, snacks, appetizers, side dishes, desserts and treats. With practical tips and insight into the "why" of it all, this ebook will help you teach your children to be confident and capable in the kitchen.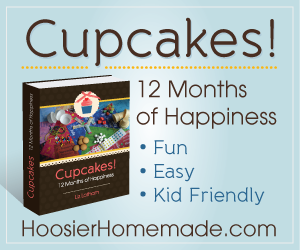 Cupcakes! 12 Months of Happiness
by Liz Latham
Cupcakes! 12 Months of Happiness offers 12 cupcake ideas, one for each month of the year. These are perfect for sharing with friends and family, a great way to spend an afternoon with your kids, and a fun and festive way to celebrate the special days throughout the year. Each one is sure to be enjoyed by kids and adults alike!
Teaching Your Kids to Cook by Laura Coppinger
Teaching Your Kids to Cook is written for parents who want to help their children learn their way around the kitchen. Filled with instructions, tips, activities, printables and over 45 simple, kid friendly recipes, this ebook offers many opportunities to make messes together and get chocolate in your hair. All of the recipes Laura's included are made from wholesome, easy-to-attain ingredients, making this the perfect introduction to cooking for families with young children.
Kitchen Science Lab for Kids: 52 Family Friendly Experiments from Around the House (Hands-On Family)
At-home science provides an environment for freedom, creativity and invention that is not always possible in a school setting. In your own kitchen, it's simple, inexpensive, and fun to whip up a number of amazing science experiments using everyday ingredients. Science can be as easy as baking. Hands-On Family: Kitchen Science Lab for Kids offers 52 fun science activities for families to do together. The experiments can be used as individual projects, for parties, or as educational activities groups. Kitchen Science Lab for Kids will tempt families to cook up some physics, chemistry and biology in their own kitchens and back yards. It's the perfect resource for Girl Scout Brownies looking to earn their Home Scientist badges! Many of the experiments are safe enough for toddlers and exciting enough for older kids, so families can discover the joy of science together.

Wish you could get wholesome organic foods into your little ones' diets and don't know how? With the growing popularity of reality shows like "Too Fat for 15" and "Honey We're Killing the Kids" and an obesity rate steadily on the rise, something must be done! The old excuse, "I'm doing the best I can" obviously isn't working. We all know that raw vegan food is healthy but many don't realize how delicious raw can be! In "Real Life Raw: Kids in the Kitchen," top raw vegan chef and nutrition enthusiast, Tina Jo Stephens, has put her heart and soul into creating wholesome and nutritious raw versions of foods kids love most.
How do YOU include your kids in the kitchen?
Latest posts by RAKI WRIGHT
(see all)